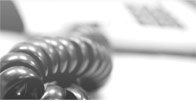 Target Training
Record-PRO™
Fast-Track Sales Training to Convert More Leads to Sales
Record-PRO is the tool that allows you to replay conversations, sharpen your staff's phone sale skills, and close unsuccessful leads. Inbound calls routed through our mortgage Vanity toll-free numbers are recorded in our system as they ring through to you. Record-PRO saves each call in an audio file and holds it for you for 30 days, allowing you to track it through the sales cycle and review it for sales training.
Record-PRO Functions:
Digital recording of each call – saves digital audio files of all incoming calls

Accessible for 30 days
Archives 30 calls for an indefinite time period
Contact management features – track the progress of a lead, from first contact to closing

Catalogue recorded calls with account codes
Replay conversations – you can listen to the entire call
Sharpen your sales staff skills – critique, review, and follow-up
Capture and identify mishandled leads
Identify and correct personnel issues
Reduce mishandled calls
Implement customized office procedures
Assess your marketing campaign and strategies
Fast-Track Training Solutions: Listen, Train, Correct, Close
Your objective is target training; your solution is Fast-Track training. We agree with the "One-Minute Manager" program theory acknowledging that it is the most popular method for training in America. The key feature is accommodating one-on-one critique: managers look for short calls, review them with sales staff, and critique the short calls for lead development.
Record-PRO enables the sales manager to review recorded and cataloged sales calls with each salesperson. This allows a manager to isolate, critique, train, and offer suggestions about each salesperson's overall performance. You will see a noticeable improvement in the closing ratio of each salesperson within two weeks!
How it Works:
After receiving and completing a Vanity-PRO ad response call, the salesperson enters their assigned 3-digit account code that is catalogued in the call detail.
Every sales person has access to review their own recorded calls.
Sales managers have access to review ALL recorded calls.
Click on the speaker icon to listen to the entire call, and hear both sides of the recorded conversation.
Isolate calls that require further training, with the option of downloading the information to your computer.
Apply target training with sales people by reviewing the isolated calls for problems that need to be addressed the same day.
Listen to an Actual call: